If you are aiming at a romantic holiday, then chose Puglia as your go-to destination. The marvelous seaside, the countryside views, and Mediterranean landscapes speak a thousand words. Luxury Holiday Villas in Puglia make you come back and again and again. It is in addition to the beauties that Puglia has on offer. The charming Puglia draws numerous couples from far afar. It is a mentionable destination for honeymooners. Now, you can spend romantic times with your partner.
Why Visit Puglia – Top Reasons
Puglia has 800 km of coastline. Visit the best beaches in Italy today. The powdery white sand and crystal-clear waters draw attention.
The towns like Otranto and Gallipolli are popular as well.
The beaches are crowded in the summers. However, if you happen to visit the place in winters, get some solitude. People come to the southern part today to avoid mass tourism in Venice, Florence, and Rome.
If you want to avoid the locals and tourist crowds, do visit Puglia. Alberobello is an ancient village, which assumed heritage status in 1996. It is full of Trulli. It is a name given to the conical-shaped houses that are strewn across the region. Walk by the narrow alleys, and discover the beauty of the white-washed houses today.
If you are in Puglia do visit the Itria Valley. It is full of olive trees and tiny white houses. Now, you can avail of slow tours to get captivating views of the place. Also, visit the stunning hamlet of Ostuni.
Are You Fond of Sandy Beaches?
If you are fond of sandy beaches, visit Salento. It boasts of crystal-clear, Caribbean waters. You can also enjoy ancient dance forms, aplenty.
If you are architecturally inclined, do visit Lecce. It is a town that is synonymous with Baroque architecture. There are churches for the religious.
If you want to laze around, do visit the Piazzas. There are plenty of other places worth visiting like dolmens in the region.
Polignano is one place worth mention here. It is associated with the tales of the ancient Arabs and Normans. You could dive from the cliffs as well. It is an experience that few can avail of in a lifetime.
Beauty Beyond Definition
Santa Maria De Leuca is one of the most-visited places in Puglia. It is in the very south of Italy. Find stunning diving spots across the region. Think of the exquisite and luxurious villas in this place today. They are villas worth renting. You and your families can have all the luxuries of life there. From large bedrooms to self-serviced kitchens, they have it all within your reach. Your Puglia holidays cannot get any better.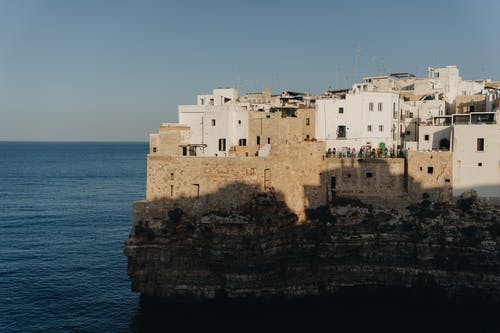 The luxury residences have infinity pools, manicured gardens, and well-sanitized rooms. Moreover, there is greenery all around you. Now, you can spend your time in the most beautiful place of all. Puglia draws the crowds today from faraway places. Now, book a flight and visit Puglia and enjoy the serenity of this place.