Ah, Puglia! The heel of Italy's boot-shaped land is a hidden treasure trove of stunning beaches. With its sun-kissed coastlines along the Adriatic and Ionian Seas, this slice of paradise captivates beach lovers and wanderers alike. Puglia's shoreline is a delightful blend of rocky inlets, cream-colored sands, and turquoise waters that'll make you fall in love at first sight. As a seasoned traveler myself, I can't help but be drawn back to Puglia's pristine shores time and time again.
Now, you might be wondering, what sets Puglia apart from the myriad of beach destinations around the world? Well, let me share some insider tips:
Unspoiled Beauty: In Puglia, you'll find authentic and uncommercialized beach experiences. Instead of crowded sands filled with sun loungers, you'll discover secluded bays perfect for family outings, romantic escapes, or even solitary introspection.
Rich History and Culture: Embedded in Puglia's coastline are ancient towers and charming fishing villages – relics from once-thriving maritime empires. For those who enjoy a dose of history alongside their sunbathing, exploring these nooks and crannies can be a real treat.
Culinary Delights: In Puglia, prepare to indulge in a simple, yet delicious cuisine, shaped by the region's fertile lands and bountiful seas. Feast on orecchiette, the region's signature pasta dish, or tantalize your taste buds with the freshest seafood, drizzled with locally-produced olive oil.
In the following articles, we'll embark on an exhilarating journey together. We'll uncover the best beaches in Puglia, share essential tips for making the most of your beach vacation, and reveal hidden gems waiting for travelers with an adventurous spirit.
So, pack your beach essentials and get ready to join me on this discovery of Puglia's alluring wonders. With every wave's gentle embrace, you'll understand why Puglia's beaches hold a special place in the hearts of all who've wandered its shores.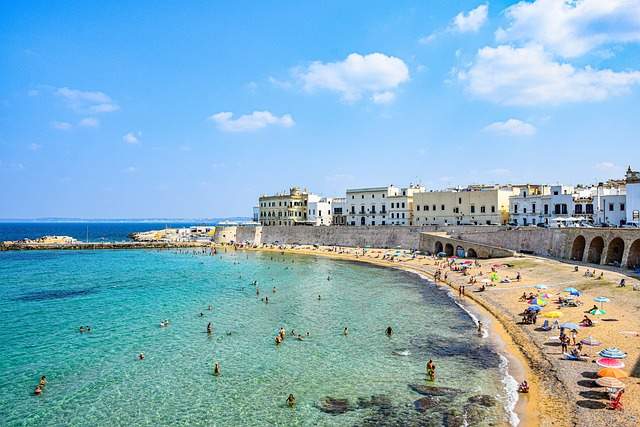 The Charm of Puglia's Beaches: A Journey Through Italy's Best-Kept Secret
Let us meander down Italy's dazzling heel to Puglia – the region we warm-heartedly crown as the home of the best beach in Italy. Since my first footfall on Puglia's golden sands, I found myself encapsulated by a bygone era of simplicity, where mother nature still reigns supreme.
Wondering what makes Puglia's beaches so distinctive? Let me share four key characteristics that sets them apart:
Picturesque Landscapes: The interplay of turquoise waters against the backdrop of the irregular cliff lines of the region produces an image that even the finest painters would struggle to recreate. It's like witnessing a real-life watercolor painting unfold before your very eyes.
Freshness and Clarity of the Waters: Puglia's beaches often scoop the 'Blue Flag' award – a global recognition for cleanliness and sustainability. When you take a dip in these crystal clear waters, it almost feels like a rejuvenating embrace from the ocean herself.
Biodiversity Abound: Puglia's beaches are not just about the sand and sea – they are a heartbeat to a plethora of marine life. Snorkeling is a treat here, where the real world takes a pause and instead, you become part of nature's cinema.
A Bounty of Hidden Coves: For the more adventurous at heart, Puglia reveals hidden, remote beaches accessible only by boat or trekking. Trust me, the journey is well worth it!
Now, you're probably wondering – what makes the climate so perfect for these beach paradises to thrive? The answer lies in Puglia's unique geographic position, tucked away in the southeastern part of Italy. Bathed with over 300 days of sunshine per year, Puglia enjoys one of the longest summer seasons. Plus, the region experiences minimal rainfall, making it an idyllic escape no matter the time of year.
Remember, Puglia isn't just about the sun, sand, and surf. It's about winding down to the rhythm of the waves, the warm conversations with locals, the gelato that somehow tastes better here, and the moment when you kick off your shoes to mark the beginning of a relaxed day at the beach.
Embarking on your journey to finding the best beach in Puglia, you're choosing an experience that goes beyond the ordinary – one that tells a more profound story of connection with nature and self. With every grain of sand that slips through your fingers, you'll realize the charm of Puglia is all about savoring the moment. So, are you ready to let Puglia's beaches steal a piece of your heart? Because, somehow, they always do.
Discover the Best Beaches of Puglia: Your Guide to Sun-Kissed Bliss
As a veteran globe trotter, if there's one thing I've learned, it's that the perfect beach is so much more than just sun, sand, and sea. It's about the atmosphere, the people, the food, and above all, the memories you build along the way. So, sit back, kick off your sandals, and let me guide you through the top beaches in Puglia.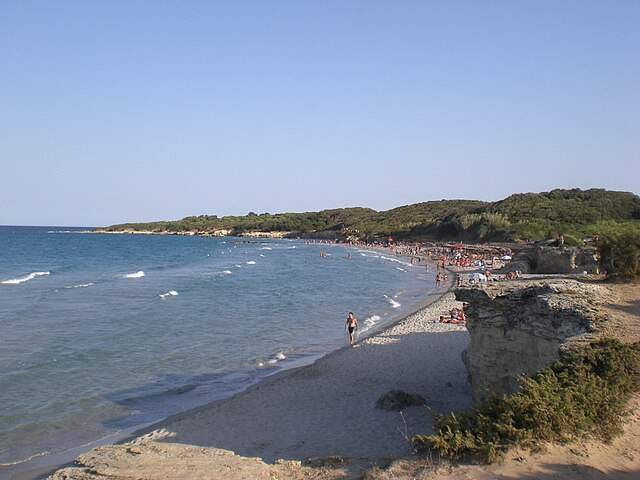 1. Baia dei Turchi
Nestled in a natural reserve, Baia dei Turchi is a hidden treasure amidst a lush forest and shimmering waters. A pristine sandy haven secluded from the urban hustle, it's perfect for peaceful retreats. Here, it feels as though time stands still, and the only agenda is to ease into the tranquillity.
To get to Baia dei Turchi, you'll embark on a scenic trek through a forest path, but don't worry – it's one worth taking. Along the way, you might spot some adorable local wildlife!
In terms of accommodation, I have a crush on Masseria Moroseta, a white stone farmhouse transformed into a chic, modern bed and breakfast. It serves a delightful Puglian breakfast sourced from local ingredients – it's a taste of true Southern Italy!
2. Torre Guaceto
Imagine a beach that's part of a nature reserve, thriving with vegetation and biodiversity. That's Torre Guaceto for you. Dotted with ancient watchtowers, this tranquil setting is a window to Puglia's rich history.
Drive or cycle up to the beach, taking time to savor the surrounding vistas. Don't miss out on the nearby Torre Guaceto Reserve, teeming with unique flora and fauna.
Nearby, Riva Marina Resort provides luxurious accommodation, complete with all amenities and a private beach.
3. Punta Prosciutto
Punta Prosciutto is a fantastic spot to lounge under the Italian sun. The beach is expansive, the waters serene and see-through, and the sand, oh-so-soft!
A well-signposted road will lead you to Punta Prosciutto. Nearby, you'll discover the enchanting village of Porto Cesareo, home to an intriguing marine biology museum.
For overnight stays, try Isola dei Conigli – located close to the beach, it offers charming rooms and a hearty breakfast.
4. Pescoluse (Maldive del Salento)
Funny enough, we call Pescoluse – "the Maldives of Italy." And once you glimpse its crystal-clear waters and powdery sands, you'll see why! It's a spot that dreams are made of.
The best means to reach Pescoluse is by car. While here, unwind at the enchanting old town of Presicce, about a 20-minute drive inland.
For a memorable stay, book a room at Le Antiche Macine. It's a serene countryside B&B with delicious homemade jams, where you'll wake up to the songbirds' melodies!
See, the beauty of Puglia's beaches extends far beyond their aesthetic appeal. Each one carries its character, its quirks, its charm – just like each one of us. So, my fellow wanderer, it's time to grab those sunglasses, slather on some sunscreen, and embark on your own Puglian adventure. Puglia awaits you, with its arms wide open, ready to wrap you up in its warm, Mediterranean embrace.
Essential Tips for Visiting Puglia's Beaches: Your Personal Guide to an Unforgettable Experience
Ah, Puglia's beaches – a paradise where the sun always seems to shine a little brighter and the waves hum sweet lullabies as they embrace the shore. But to truly immerse yourself in this sun-kissed haven, there are a few secrets I'd love to share with you. Just like a wise friend, let me guide you through those vital insights to make your Puglia beach visit a treasure trove of memories.
Best Time to Visit
Though Puglia basks in warm weather almost year-round, the perfect experience demands a few considerations:
For golden sands minus the crowd, aim for late May to early June or September – when the water is still warm and the beaches less packed.
If you adore lively atmospheres and don't mind a few extra folks joining your party, plan your visit for July and August, when Italy is in full vacation mode.
For budget-conscious travelers, avoid the peak season (July and August) – discounted rates, quieter streets, and serene beaches await you on the fringe months.
Essentials to Carry
Now, to make the most of Puglia's beaches, do remember a few crucial items:
Sunscreen – Stay safe under the Mediterranean sun.
Beach towel or portable beach chair – Lounge in comfort.
Sunglasses and a sun hat – Protect your eyes and face.
Snorkeling gear – Explore the vibrant underwater realm.
Reusable water bottle – Keep hydrated and eco-friendly.
A lightweight beach bag – Carry your essentials with ease.
Rules and Etiquette to Maintain
It wouldn't be a true Puglian adventure without a harmony of mutual respect. Here are some beach etiquettes to observe:
Respect nature – avoid littering, and don't disturb any plants or animals.
Keep the music volume low, or better yet, use headphones – everyone deserves tranquility.
Arrive early to claim your spot, so as not to encroach on others' space.
Topless sunbathing and wearing a swimsuit in town may not be appreciated everywhere – observe the atmosphere and adhere to local customs.
Respect designated smoking and non-smoking areas on the beaches.
Encourage the local economy – relish local eateries and buy souvenirs to bring a piece of Puglia back home.
Be it your first time or an overdue reunion with Puglia's enchanting beaches, let these tips be the wind in your sails, guiding you towards a truly unforgettable experience. With a little insider wisdom and an open heart, you'll soon find yourself woven into the tapestry of Puglia's sun-dappled shorelines and the warm, salt-kissed breeze urging you to explore further. Embrace the adventure and lose yourself in the magic of Puglia's best beaches. The Italian coast is calling – are you ready to answer?
Hidden Gem Beaches in Puglia: Unveiling Puglia's Undiscovered Coastal Charms
We treasure hunters thrive on the thrill of uncovering the lesser-known treasures – the sun-kissed enclaves buried in time, tantalizingly untouched by tourist hordes. Well, my fellow adventurers, immerse yourself in Puglia's best-kept secrets – the clandestine beaches you'll cherish as your very own.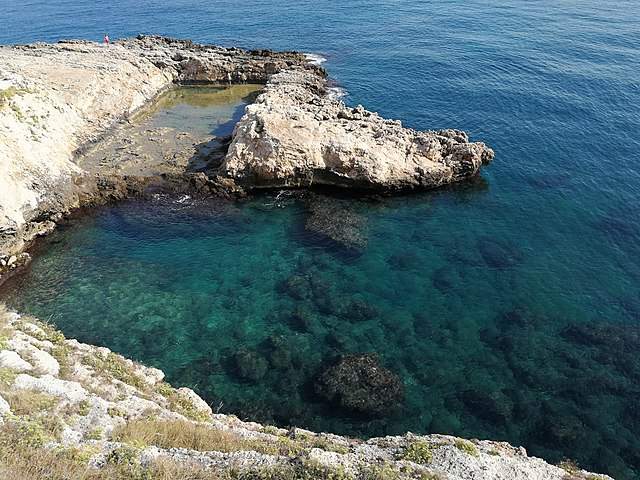 1. Cala Tonda
An azure diamond set in the rocky shoreline of Marina Serra, Cala Tonda is the epitome of a secret escape. Rich in history and natural beauty:
Swim through ancient submerged caves once frequented by fishers.
Gaze in awe at the semi-circular basin carved into the cliff by millennia of waves.
Be prepared with suitable shoes for a rocky descent, and soak in the serene atmosphere of this secluded gem.
2. Spiaggia di Mezzaluna
Nestled near the town of Ostuni, Spiaggia di Mezzaluna strays off the beaten path and evokes a sense of discovery. Here's why you'll fall in love with it:
No crowds, just the gentle hum of waves along the unusually dark sand.
Capture gorgeous photos of seabirds as they skim across the turquoise waters.
On your approach, make a stop at the charming village of Villanova for a dollop of history and a scrumptious seafood treat.
3. Marina di San Gregorio
Enveloped by lush green hills, Marina di San Gregorio is a vision of serenity. It is more than just a beach; it's a paradise for artists and dreamers:
Marvel at the enchanting views of precipitous limestone cliffs.
Ponder over the majesty of nature as you admire the dazzling play of colors painted across the sky.
Strike up conversations with the warm-hearted locals, who'll inspire you with their fascinating stories.
4. Cala Paradiso
Located near Leuca, Cala Paradiso's name isn't an exaggeration – it's a pocket of heaven on Earth. Here's how you dive into this celestial beach:
Crystal waters and jagged cliffs entice you for mesmerizing snorkeling sessions.
Catch sight of rare marine life that finds sanctuary in its seclusion.
To access this beach, equip yourself for a modest hike – but trust me, the view alone is worth the effort!
So, noble explorers, are you ready to loosen the sands of time and reveal the hidden beauties of Puglia's beaches? As you venture off the beaten path and trace your footsteps along the untamed shorelines, you'll reconnect with the soul of the coast – the stories whispered on the wind and the histories etched into every rolling wave. Rejoice in your discoveries, for you are unlocking the secrets of Puglia's lesser-known paradise. Let the journey begin – and treasure awaits you!
Making the Most of Your Puglia Beach Vacation: A Treasure Trove of Activities, Food, and Keepsakes
Oh, the sun-soaked beaches of Puglia, a sumptuous slice of heaven on Earth. Trust me, to merely lounge on the sand and snap the odd sunset photo isn't doing justice to this place. To truly drink in the essence of this paradise, let me share with you some delightful adventures and flavors waiting to be unraveled.
Beach Activities
Puglia's crystal-clear azure waters offer more than just a pleasant dip. Here are some suggestions to amplify your beach experience:
Snorkeling: Immerse yourself in the underwater ballet of shimmering fish. Torre Guaceto and Porto Selvaggio are excellent snorkeling spots.
Beach Games: Indulge in a friendly beach volleyball match or get a fun workout with frisbee. You'll find plenty of sports enthusiasts soaking in the sun at sandy sanctuaries like Gallipoli and Pescoluse.
Boat Tours: Navigate Puglia's beautiful coastline on a boat, exploring hidden grottoes and coves. Salento boat tours are particularly popular for their "explore and swim" routes.
Local Food and Drink Delights
After a day in the sweet sun, refuel with Puglia's mouth-watering local cuisine:
Seafood: Enjoy chargrilled octopus, a Puglia specialty. Seafood pasta, with fresh catches of the day, is another must-try and my personal favorite.
Pasticciotto: Relish this sweet, creamy-filled breakfast pastry, a Puglian staple.
Negroamaro Wine: Swirl a glass of this ruby-hued local wine – as spectacular a sight as a Puglian sunset, and perfectly rounded off with its robust, fruity flavor.
Memorable Souvenirs
Your Puglian memories deserve more than just digital photos:
Local Handicrafts: Lecce's sandstone carvings, known as "Pietra Leccese", are delightful keepsakes.
Olive Oil: Take a piece of Puglia's heart back home with you in the form of their world-famous olive oil.
Ceramics: Puglia's traditional "Pumi" ceramics, symbolizing prosperity and good luck, make an attractive and meaningful souvenir.
Don't just visit Puglia – live it, cherish it, and take a little piece of it back home with you. Your memories of snorkeling amidst the colorful shoals, tasting the rich Apulian culinary heritage, and admiring your tastefully chosen souvenirs will linger long after the sands of Puglia are left behind. So, let's pack those bags, my friend – an unforgettable tapestry of experiences awaits you in the embracing warmth of Puglia's magnificent shores. Shall we answer the call and make some lifetime memories together?
Conclusion: The Unforgettable Shorelines of Puglia Await You
As we prepare to pull anchor and set sail from our seaside discourse, it's time to revisit the reasons why Puglia's beaches are truly the crowned jewels of Italy's Adriatic coast.
Diversity of Experiences: Puglia satiates every type of beach lover's soul. Be it the tranquil, rocky coves of Marina Serra, or the sun-drenched, sandy stretches of Pescoluse, each beach sings its unique melody in the harmonious coastal choir of Puglia.
A Gastronome's Delight: The delightful seafood pasta of Puglia, combined with a glass of Negroamaro wine, creates a beach picnic experience that tantalizes both your taste buds and your vista-hungry eyes.
Memory Keepers: The beach is not all Puglia has to offer. The unique handicrafts, from Pietra Leccese carvings to Pumi ceramics, serve as the perfect mementos to carry back home.
In Puglia, more than anywhere else, the beach is not just about the expanse of sand meeting the sapphire sea. Each grain tells a story, each wave links to a cherished memory. But these are not just my tales to tell – they are also waiting in the sands of time, as yet unlived adventures calling out to you.
So dear friend, consider this a warm invitation from Puglia and me, to step off the beaten track, to wander, and to embrace your sense of wonder. Let's turn those beach dreams into sun-kissed realities. Ready your backpack, fasten your hat, slide on your shades, and take that first step towards the beach paradise of Puglia. I promise you, it's a journey you'll treasure in your heart, forever.